04 Dec
Green and Transition Finance

A. UOB's Net Zero Commitment: Driving a Just Transition in ASEAN
As a leading financial institution operating in ASEAN, UOB is steadfast in being a positive force in the fight against climate change. Our commitment to net zero by 2050 is grounded in the need for a just transition that continues to support socioeconomic growth and improve energy access across the diverse economies in the region, in tandem with decarbonisation.
We are guided by the science in setting our net zero targets and have based our targets on internationally recognised climate models. In consideration of structural differences across the region, we have extracted regional pathways for some targets that represent fair contributions of our key markets.
As a commercial bank, we see our role as a catalyst and enabler to influence the real economy towards net zero. We are embedding our net zero targets in our business strategies and operations as we actively engage our clients across the region, to support them on setting their net zero plans or on making their existing net zero plans more ambitious, as well as through transition financing. We will also direct more financing towards green projects and activities, and away from those that emit the most carbon.
Find out more here.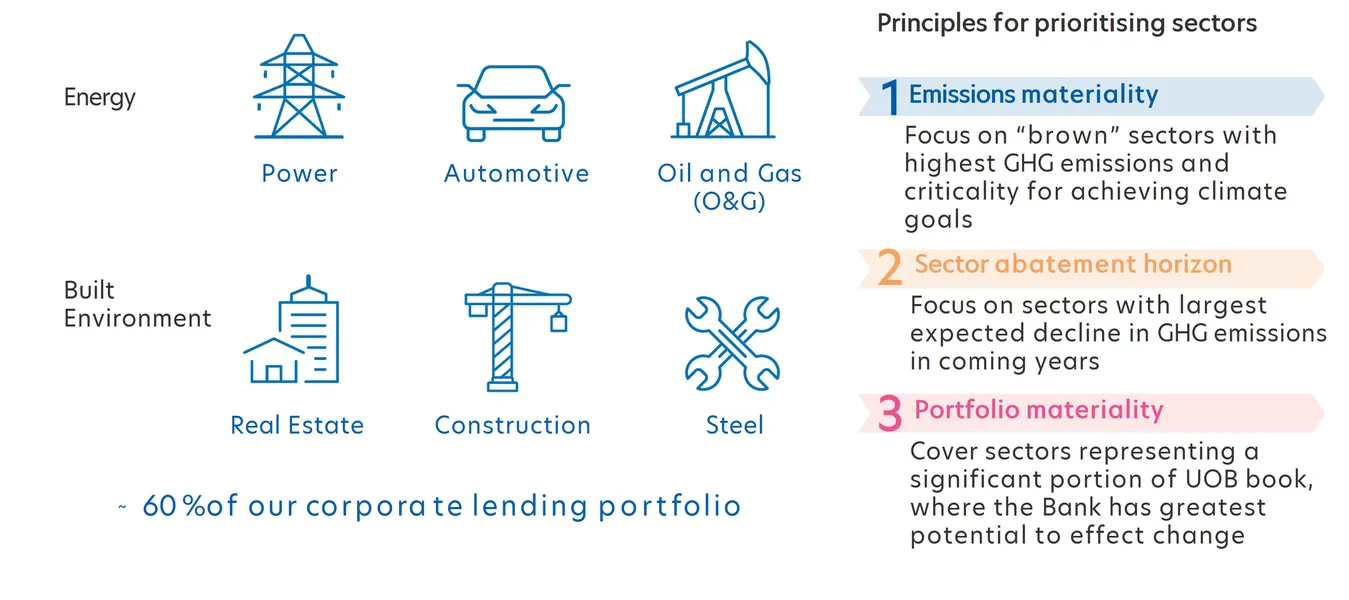 UOB's commitment and targets.

Sharing of UOB's net zero commitment by UOB CEO Wee Ee Cheong.
B. U-Solar: Asia's First Integrated Solar Energy Platform
Launched in 2019, U-Solar is Asia's first integrated financing platform that connects businesses and individuals to service providers to drive the development and adoption of solar power.
Available in Indonesia, Malaysia, Singapore and Thailand, U-Solar simplifies access to sustainable financing for solar project developers, engineering, procurement and construction contractors as well as leading equipment suppliers. Residential, commercial and industrial end-users can also take up financing solutions for solar panel installations and maintenance.
Find out more here.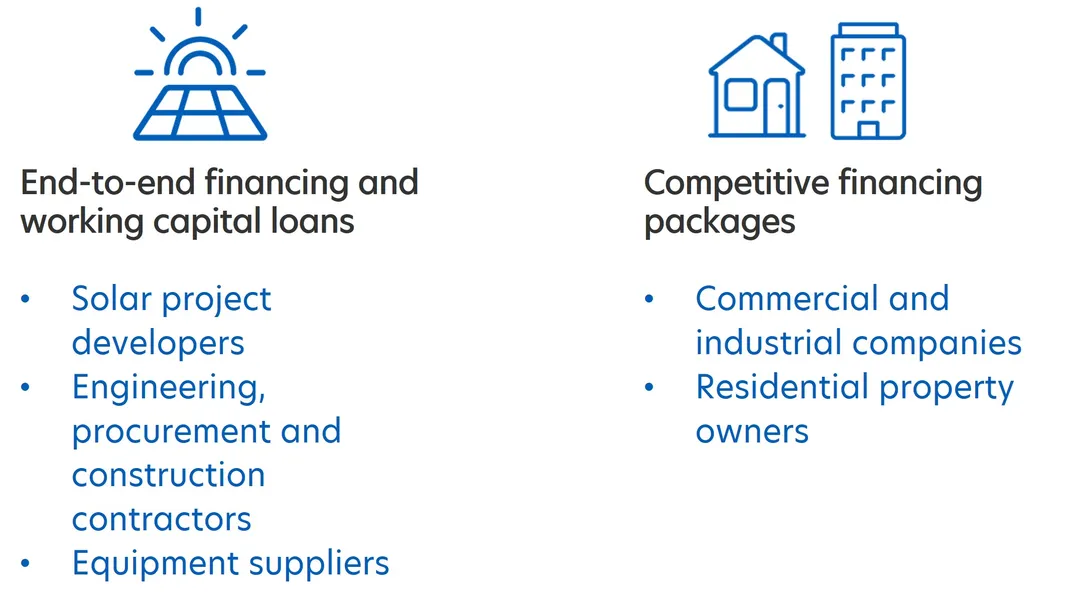 UOB's U-Solar makes sustainable financing accessible for the solar power value chain.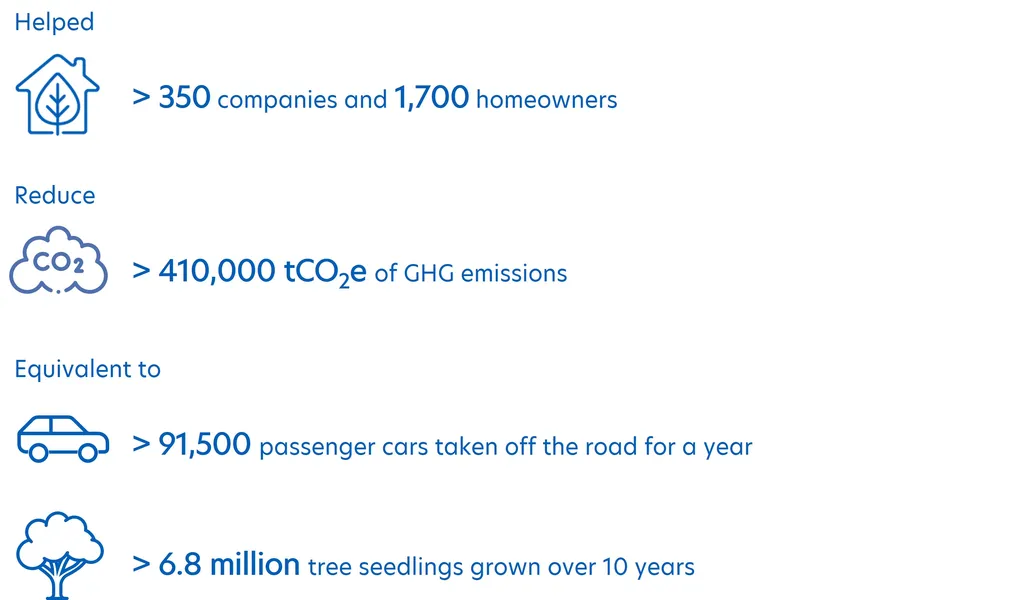 The impact UOB helps create through U-Solar.
C. U-Energy: Asia's First Integrated Financing Platform for Energy-efficient Property Projects
Launched in 2020, U-Energy is Asia's first integrated financing platform that drives the development and adoption of energy efficiency projects for buildings and homes.
Available in Indonesia, Malaysia, Singapore and Thailand, U-Energy connects energy service companies with end-customers to offer solutions for common energy efficiency projects. With our flexible green financing options, building owners can opt for a direct purchase or the energy-as-a-service model. For homeowners, UOB offers a 0% interest instalment plan of up to three years when UOB credit cards are used as the mode of payment for their energy efficiency retrofitting projects.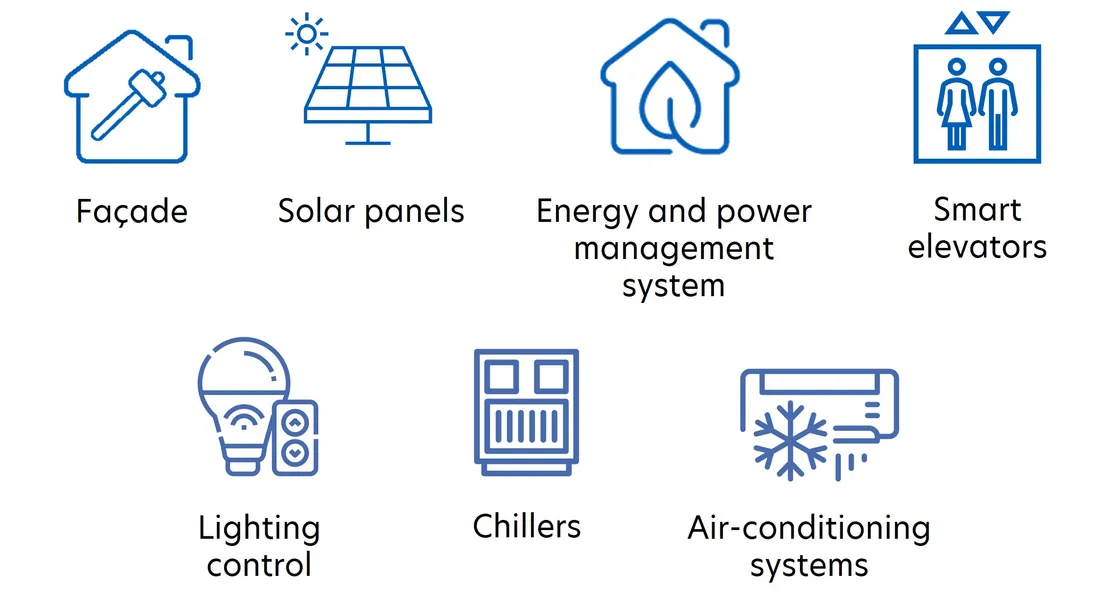 UOB provides sustainable financing for common energy efficiency projects through U-Energy.
The impact UOB helps create through U-Energy.
D. U-Drive: Integrated Green Financing for the Electric Vehicle Ecosystem
Launched in 2021, U-Drive is our integrated green financing solution for the electric vehicle (EV) ecosystem. It connects the EV value chain – from automotive brand owners, dealers and EV charging infrastructure providers to end-users – to help drive the development and adoption of green transportation.
Available in Singapore and Thailand, U-Drive provides a comprehensive range of green banking facilities, including term loans, trade financing, dealer stock financing and end-user financing of EVs and charging equipment. Beyond financing, we also offer foreign direct investment advisory to EV original equipment manufacturers seeking to expand into ASEAN. We work with dealers and charging infrastructure providers to offer exclusive packages to end-customers as well.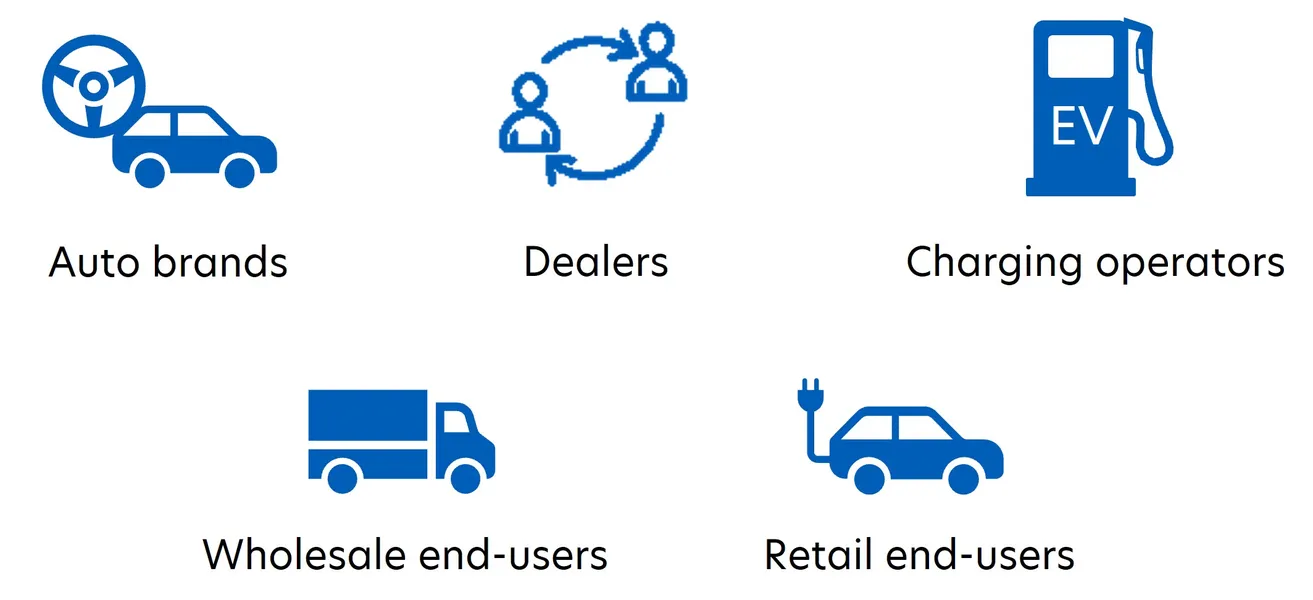 UOB's U-Drive offers flexible, customised financing to support the switch to greener vehicles.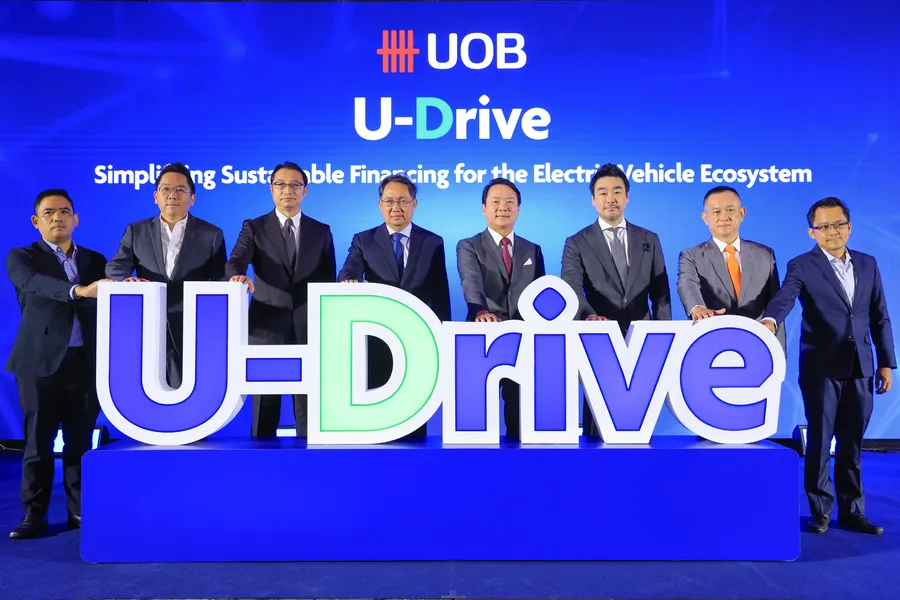 UOB's U-Drive connects the electric vehicle ecosystem to drive the development of green transport.
E. UOB Sustainability Compass: Helping SMEs Kickstart Their Sustainability Journey
For many SMEs, implementing sustainability in their business can be a big challenge. To help SMEs kickstart their sustainability journey, UOB launched the UOB Sustainability Compass, through which companies only need to complete a short questionnaire to receive a customised, step-by-step guide on how to set up sustainable business models and practices.
They will also receive information on regulations, standards and certifications that affect their sectors, as well as sustainable financing solutions to take their business to the next stage of growth.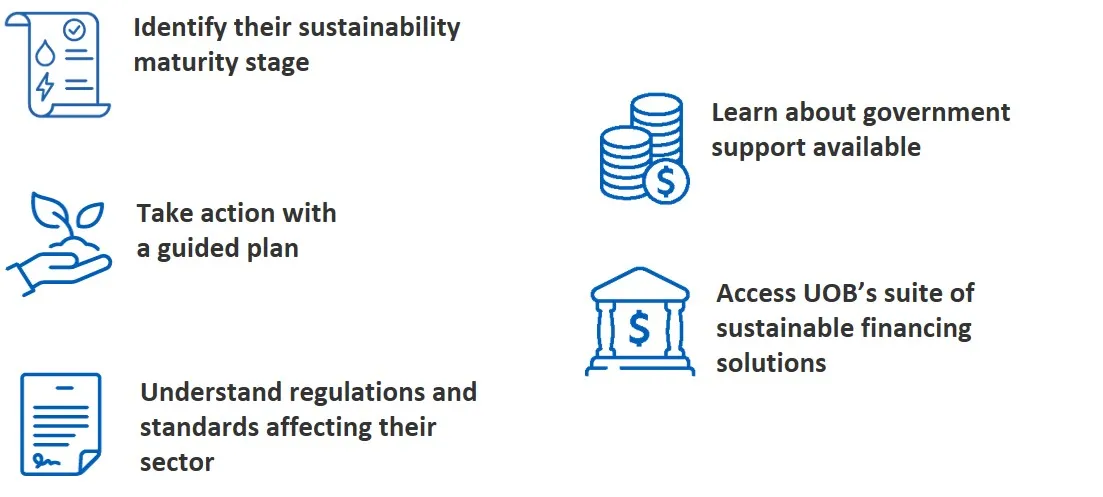 UOB Sustainability Compass provides SMEs with clear, actionable steps.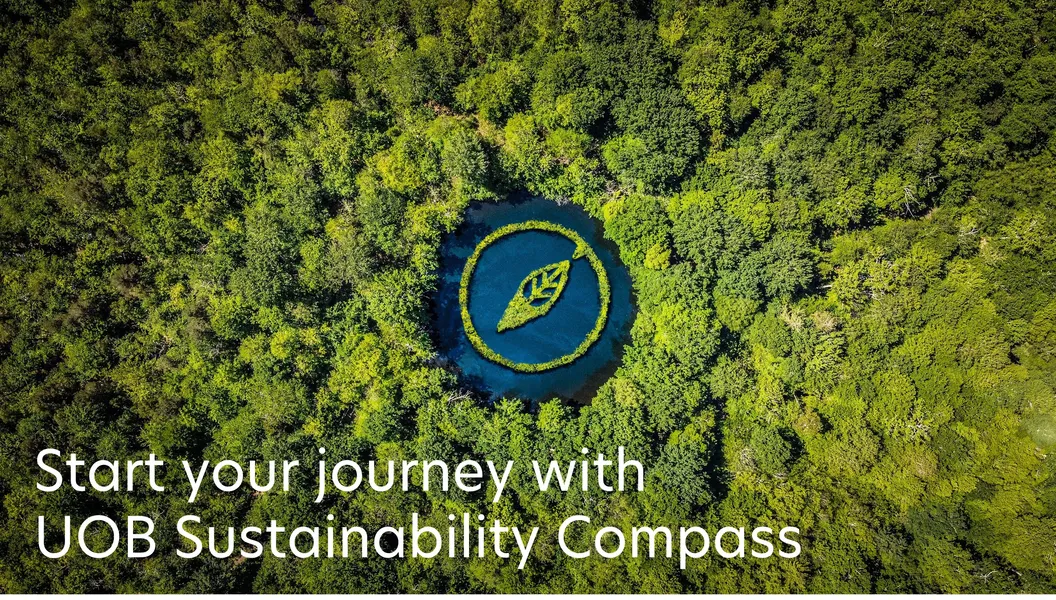 UOB Sustainability Compass helps SMEs chart their sustainability journey with confidence.