AGIL® Intelligent Traffic Management System
Increasing urbanisation and traffic congestion pose significant impact on cities' liveability and sustainability. It is crucial for cities to harness technology to accelerate digital transformation and achieve a more connected and greener transport ecosystem that improves quality of life for citizens while supporting global decarbonisation efforts.
ST Engineering's AGIL® Urban Traffic Management System leverages advanced technologies such as AI, machine learning, automation and data analytics to provide complete situational awareness of road networks and real-time information of transport resources with useful insights for enhancing traffic efficiency and improving commuter travel journey. It enables transport authorities and traffic controllers to better manage traffic flow and predict traffic patterns, minimising urban congestion and reducing carbon emissions while facilitating timely incident response.
Conventional traffic signal control solutions are unable to dynamically manage junctions in line with changing traffic conditions. The AGIL® Smart Digital Junction Suite optimises traffic signal timings based on real-time traffic conditions, improving traffic flow and reducing vehicle idling time and delays on the road. By harnessing edge processing and AI-driven algorithms, it simplifies and optimises junction management and supports emerging technologies such as LiDAR and Vehicle-to-Everything connectivity, reducing congestions and carbon emissions for cities.
Find out more here.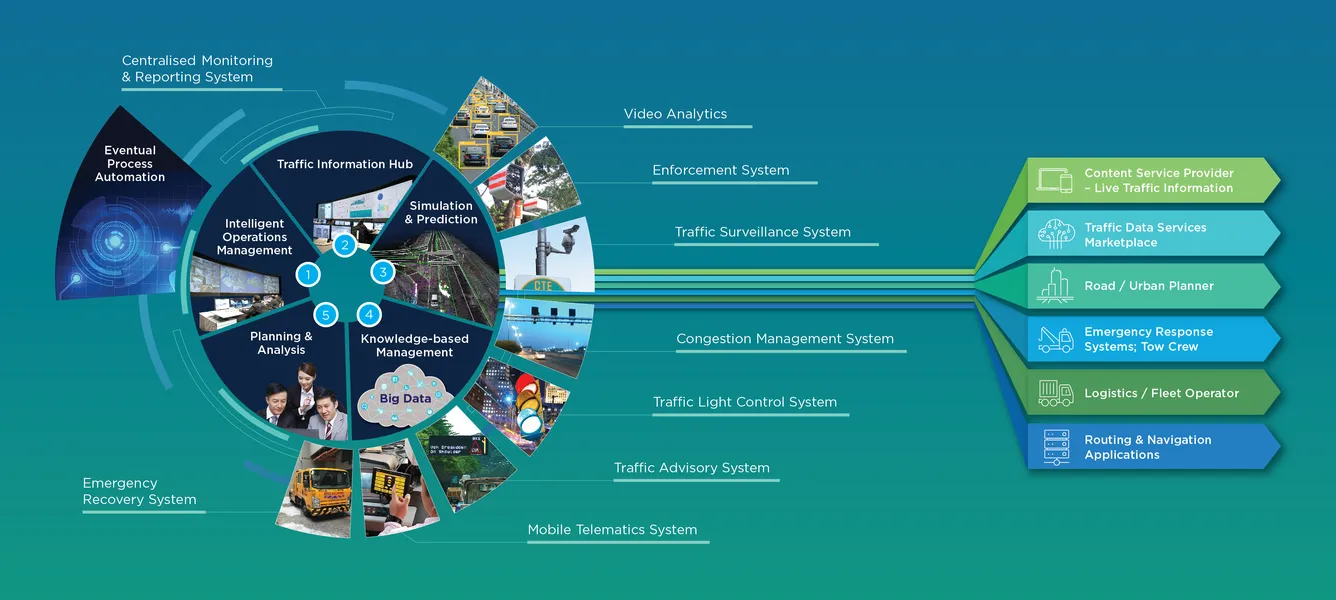 The AI-driven AGIL® Urban Traffic Management System.
AGIL® Smart Street Lighting Solution
Street lights illuminate cities, accounting for 40% of electricity costs on a municipal level. With increasing urbanisation, it is important for cities to leverage Smart Street Lighting solutions to reduce energy consumption and carbon emissions, creating a safer and more sustainable living space for citizens.
ST Engineering's AGIL® Smart Street Lighting Solution is an integrated IoT platform that enables remote monitoring, control, management, maintenance and upgrading of street lighting assets. It provides complete real-time visibility on the condition of lighting assets and performance, optimises energy and operational efficiency of lighting management while offering preventive and proactive maintenance.
In addition to more than 50% reduction in energy consumption by switching from conventional lighting to LED luminaires, our central management system also increases energy savings of up to 20% by enabling smarter and more sustainable management of the connected LED lightings.
A connected street lighting infrastructure can serve as a common city-wide backbone infrastructure for other smart city applications. It potentially facilitates the deployment of a wireless sensor network for smart sensors and provides a platform for cities to accelerate the deployment of various smart city use cases, improving city management and quality of life for citizens.
Find out more here.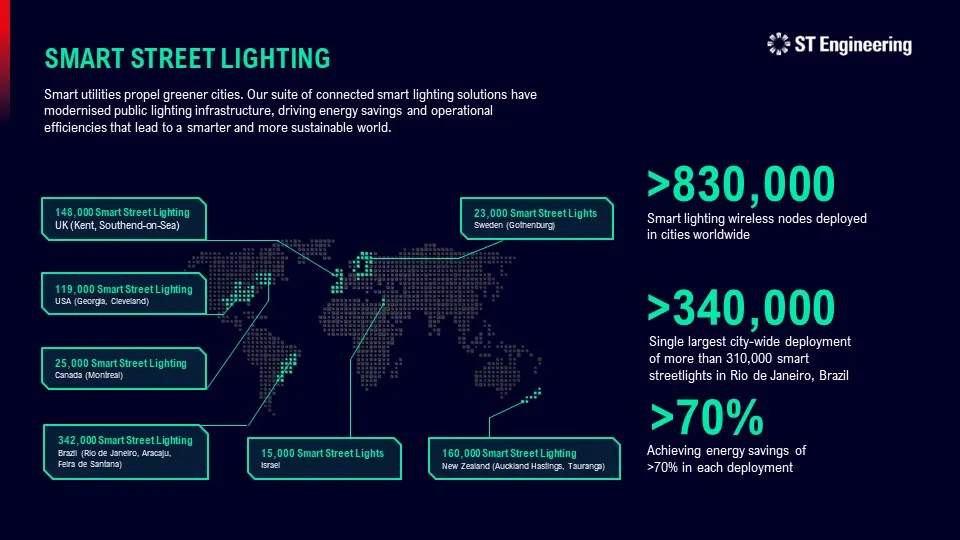 The AGIL® Smart Street Lighting Solution makes greener cities possible.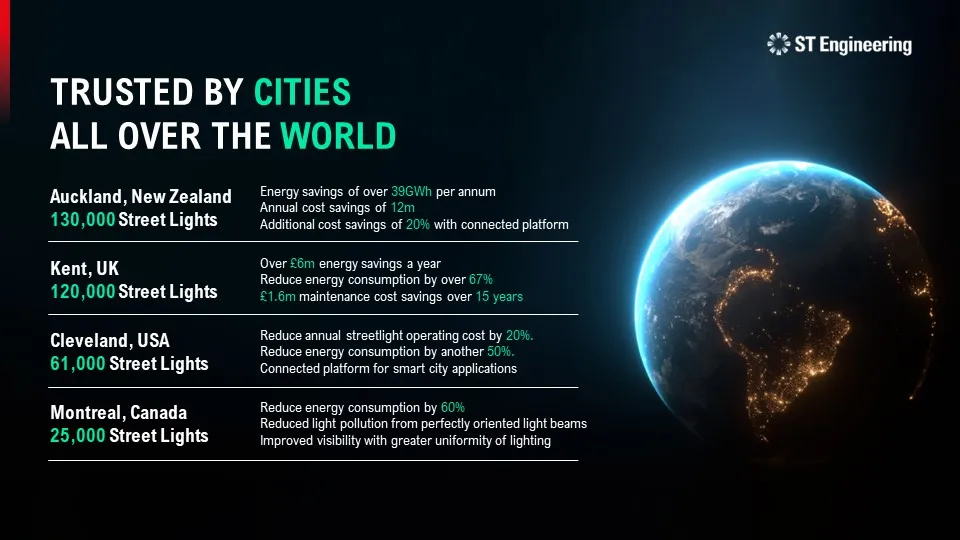 The AGIL® Smart Street Lighting Solution is trusted by cities all over the world.
AGIL® Smart Water Solutions
Globally, approximately one-third of the water intended for consumption never reaches its intended destination or remains unbilled. This is primarily due to issues like pipe leakages, unauthorised connections and inadequate metering solutions. With increasing water scarcity, a smarter, more reliable water supply and management infrastructure contributes directly to the liveability of cities.
1. AGIL® Advanced Water Metering Infrastructure and Smart Meters
ST Engineering's AGIL® Advanced Water Metering Infrastructure connects and manages millions of water meters around the world. Its Automated Metering Infrastructure (AMI) solutions leverage radio-based technology to automate meter readings and remotely collect water usage data in real-time. By fully automating meter reading, billing and data collection processes, AMI empowers water utility authorities and cities to prevent non-revenue losses and protect water resources while delivering responsive services to customers to better manage water supply and consumption.
2. AGIL® Automated Water Leak Detection Solution
Water loss in the water supply system and high cost of maintaining pipes can be a critical issue to cities, especially water-scarce cities. ST Engineering's AGIL® Automated Water Leak Detection solution integrates the use of advanced sensors with an IoT platform to support continuous and automatic monitoring of water supply systems that enable early detection of water leakages, and defective pipes and faults.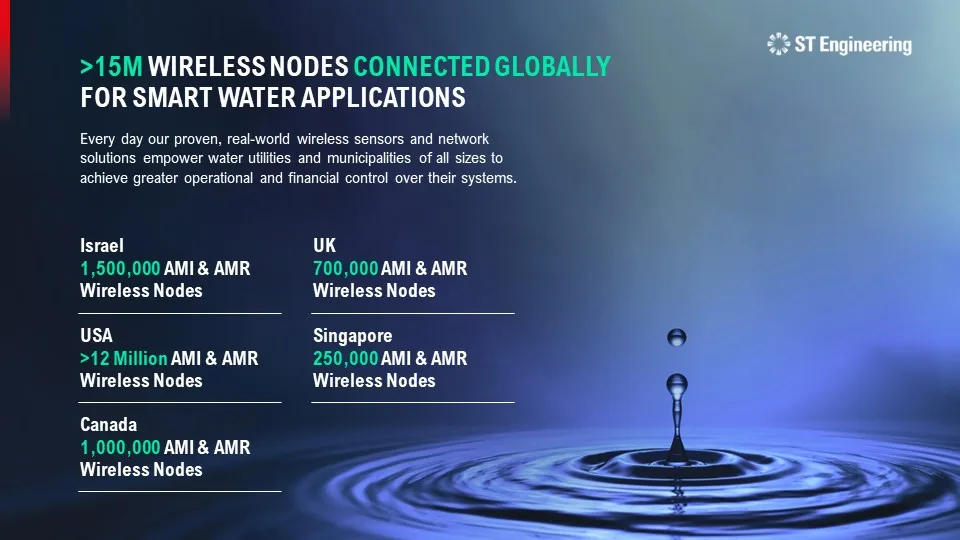 15 million wireless nodes connected globally for smart water applications.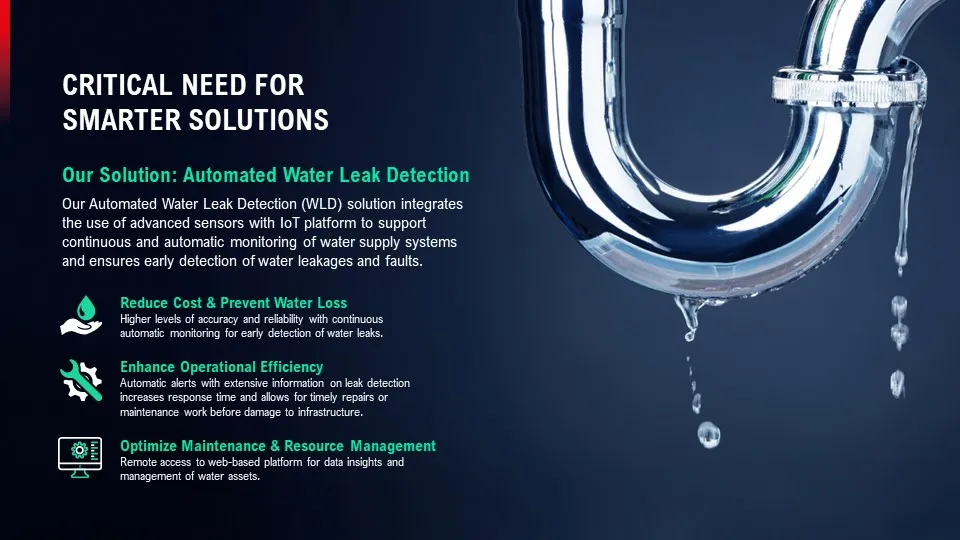 Automated water leak detection.
Airbitat Sustainable Cooling Solutions
Faced with challenges from rising global temperatures, there is a need to address the increasing energy demand, carbon footprint and operational costs in cooling urban infrastructures. Conventional cooling by chillers or Direct Expansion systems are highly energy-intensive and have significant environmental impact due to excessive generation of waste heat.
ST Engineering's Airbitat range of high-performance, eco-friendly evaporative cooling solutions cools powerfully and efficiently. Powered by our patented Reevac® Deep Cooling technology, Airbitat delivers cooling performance that is 50% more effective than conventional air coolers and consumes up to 80% less electricity than air-conditioning of a similar capacity – all without generating any waste heat. It uses a three-step cold water generation process for cooling without the use of environmentally harmful refrigerants or energy-intensive compressors.
The award-winning Airbitat cooling solution is suitable for all kinds of weather conditions, including challenging environments such as tropical and temperate climates. It cools indoor and outdoor spaces efficiently and effectively. For data centre applications, it pre-cools the hot return air from the data centres, taking over 40% reduction in conventional chiller load and achieving overall energy savings with reduced carbon footprint. Our solutions play a critical role in decarbonisation, empowering cities with a greener and more liveable future.
Find out more here.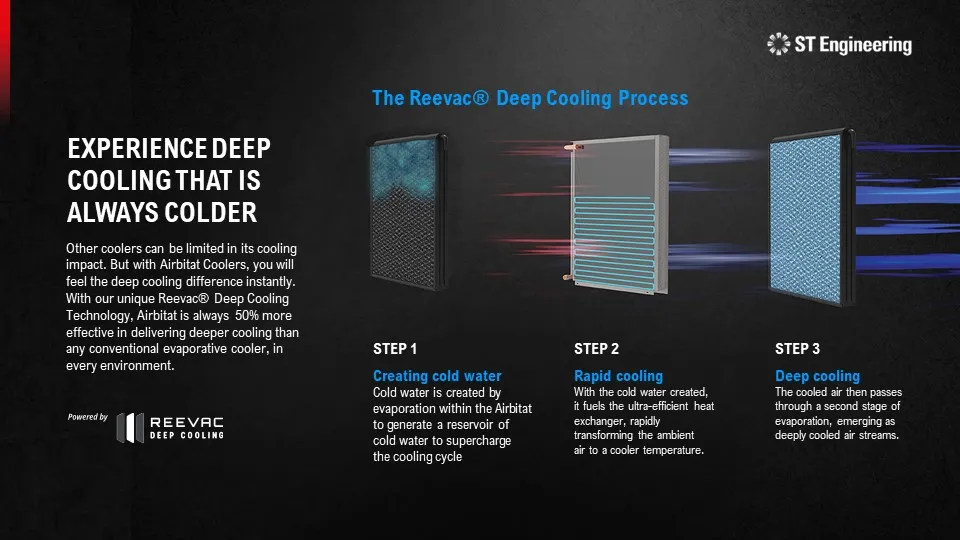 Experience deep cooling with the Airbitat range of solutions.
Autonomous Smart Drone Solution for Monitoring of Reservoirs
With a small operational carbon footprint, ST Engineering's DroNet is an electrically powered network of drones that are operated Beyond Visual Line of Sight (BVLOS) from a command hub. BVLOS means the operation of drones at distances outside the normal visible range of the pilot. The command hub uses automated procedures to enable a small team to deploy multiple drones concurrently. The drones can be launched and recovered autonomously from drone stations at designated sites without the need for an on-site support crew.
The DroNet's Video Analytics module employs Deep Neural Network models that are trained to detect the presence of vessels and aquatic plants in the reservoirs. Drones are flown to capture aerial imageries of the reservoirs to count the vessels in the reservoirs and to classify whether the aquatic plants are near or under water surface. The monitoring would otherwise require the efforts of many boatmen to patrol the reservoirs using diesel-powered boats.
Hyperspectral sensors are integrated onto the drones, tuned and regressed to measure the level of chlorophyll-a and turbidity remotely. In addition to offering wider coverage within a shorter time frame, the measurement capability also provides near real-time water quality data, eliminating the need for laboratory tests on water samples.
A web-based Viewing Platform and mobile-based Alert Notification System were developed to share real-time data and notifications with users, improving their operational response time.
Find out more here.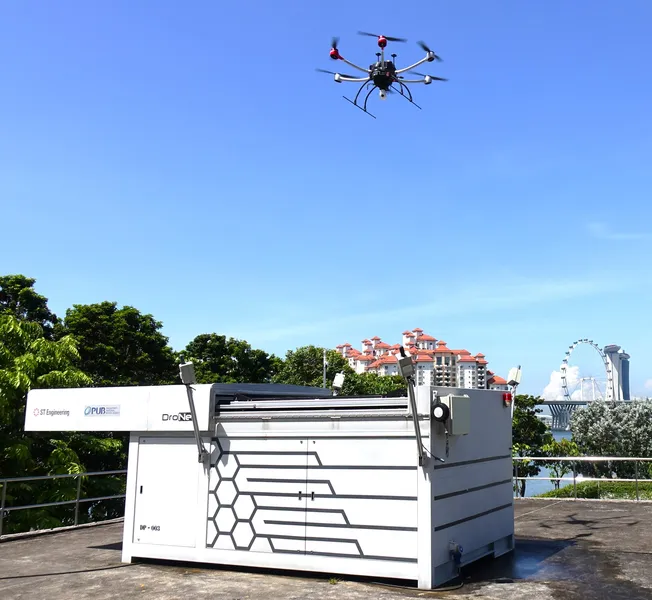 Drones are launched and recovered autonomously from stations at designated sites.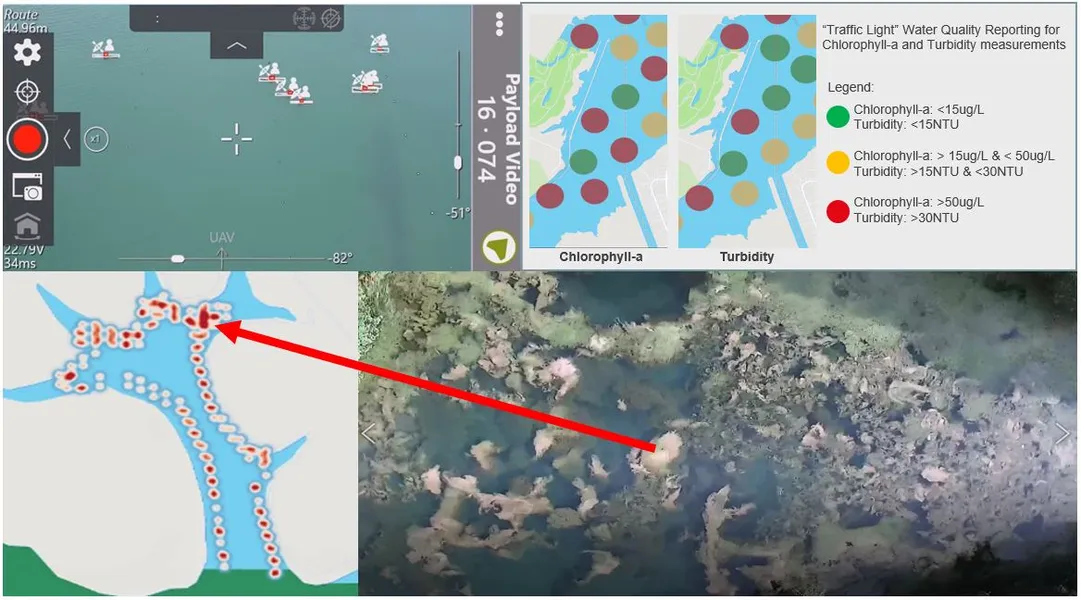 Remotely detect and measure level of chlorophyll-a and turbidity.
GoParkin™ Integrated Smart Car Park and Electric Vehicle Charging Solution
Parking remains a challenge for urban cities. Limited parking space contributes to traffic congestion and higher carbon emissions when drivers embark on extra journeys in search of parking space. As more vehicles go electric, a fully digital and integrated parking and electric vehicle (EV) charging solution is crucial for ensuring a seamless driving experience for motorists while supporting cities' efforts to decarbonise and encourage EV adoption for a greener and cleaner mobility landscape.
The GoParkin™ Integrated Smart Car Park and Electric Vehicle Charging Solution by ST Engineering enables EV users to park, charge and transact easily on a single mobile app. With its Plug-n-Charge feature, EV drivers can automatically start a charging session when the charging cable is connected to their vehicle. To improve access to EV charging points, GoParkin™ detects and identifies EVs that have completed their charging session but continue to occupy the lot, as well as non-EVs that occupy an EV charging lot. Its feature-rich mobile app makes it easier and more convenient for motorists to park and charge their EVs seamlessly.
The cloud-based GoParkin™ management platform provides a real-time, centralised view of EV charging and car park operations on a unified platform. It improves operational efficiency and future planning for car park operators, supporting a more sustainable and efficient EV-driven transport landscape.
Find out more here.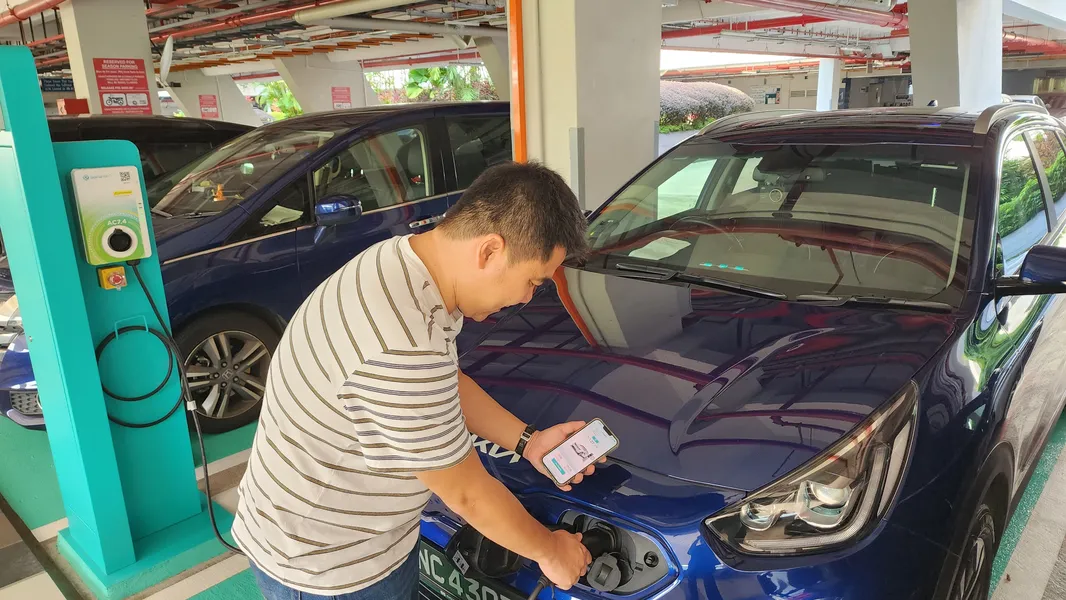 GoParkin™, a one-stop platform and mobile app for seamless parking, EV charging and car park operations.
Intelligent Water Management System
Rising global temperatures lead to a higher rate of water loss, which contributes to severe droughts and floods and affects the freshwater water supply in ecosystems worldwide. To meet the water demands of increasing population and cites with scarce water resources, it is crucial for water agencies to leverage technology and integrated water solutions. Water agencies have to optimise water operations and ensure seamless management of multiple water resources while safeguarding water resources against threats such as pollution, sabotage and natural disasters. These diverse water sources can range from local catchments, imported water to desalination and reclaimed water.
ST Engineering's Intelligent Water Management System (IWMS) provides greater visibility of water operations through real-time monitoring and control of water systems, applications and sensors. It uses a systematic approach to monitor water drainage networks and equipment for flood prevention. By leveraging AI, the IWMS improves forecast of water demand and optimises water production and distribution. Its structured workflow and incident management delivers quick incident response that minimises disruptions and wastage.
The IWMS enables water agencies to reduce daily water system planning time by 85%, minimise unexpected fluctuations and disturbances to water demand and deliver more sustainable management of water resources to ensure water resources are efficiently managed and distributed where and when it is needed most.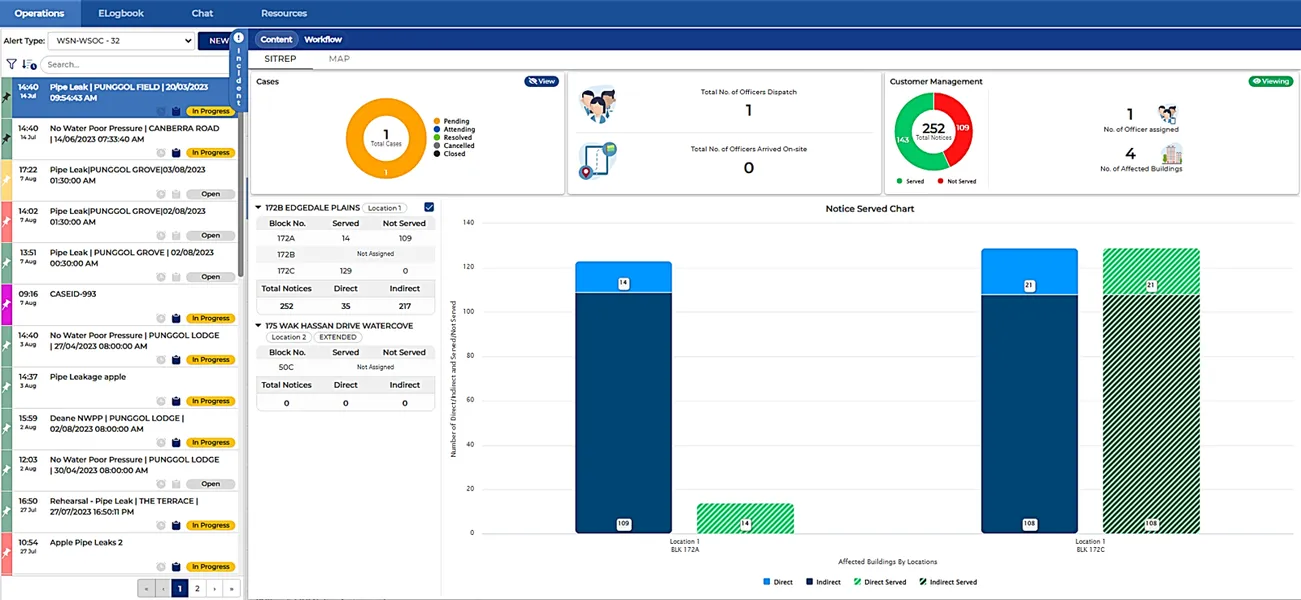 One-glance dashboard and incident handling in the IWMS.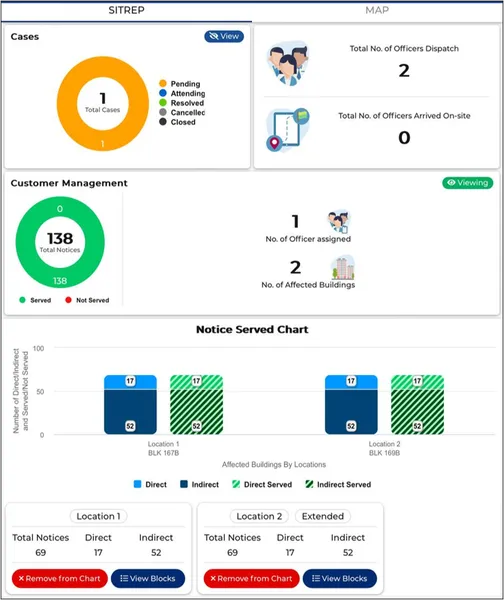 Mobile app for on-the-go operations management.
Jurong Island Desalination Plant: Singapore's Fifth Desalination Plant
ST Engineering enhanced the resilience of Singapore's water supply at the Jurong Island Desalination Plant (JIDP) by tapping into the latest proven technology incorporating innovative and sustainable environmental engineering solutions. The 3.7-hectare JIDP is a vital water source that contributes to strengthening Singapore's water security. Located on Jurong Island, it produces up to 137,000 cubic metres of potable water for Singapore's daily consumption.
Constructed under the Design, Build, Own and Operate model, the JIDP is operated by TP-STM Water Resources Pte Ltd, a joint venture formed by Tuas Power and ST Engineering, for a 25-year period. It receives seawater from Tuas Power's Tembusu Multi-Utilities Complex for processing into potable water.
The challenge of building a full-fledged desalination plant on existing infrastructure called for innovative engineering solutions. These range from developing modular systems for various desalination stages to pre-fabricating equipment such as reverse osmosis units for water treatment. The plant is highly automated – a three-person team can run the entire plant's operations from the control room. It also incorporates the latest water treatment equipment and membrane technologies, including dissolved air flotation, ultra-filtration and reverse osmosis.
Find out more here.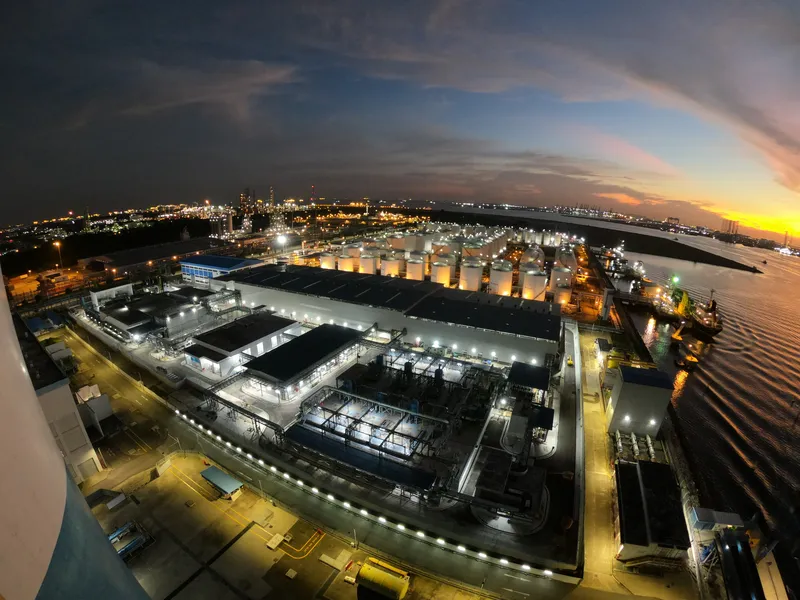 As a weather-resilient water source supported by advanced technology and innovations, the JIDP plays an important role in Singapore's water supply sustainability.