05 Dec
Energy and Decarbonisation

Accelerating Decarbonisation of the Built Environment with Energy-as-a-Service
The built environment globally accounts for 26% of global carbon emissions and is one of the most challenging sectors to decarbonise. Space cooling, being the fastest-growing use of energy in the built environment, is also one of the top drivers of global electricity demand.
Keppel Energy-as-a-Service (EaaS) offers holistic end-to-end energy management solutions such as smart and energy efficient cooling-as-a-service, distributed solar photovoltaics, electric vehicle charging facilities, renewable energy certificates, energy storage and other low-carbon energy solutions.
Our international district and distributed cooling portfolio has a designed capacity of over 200,000 RT. The portfolio spans over 80 developments. With a track record of more than 20 years with zero downtime, we serve customers in data centers and the industrial, office and retail segments. Beyond being a one-stop shop for decarbonisation solutions, EaaS' key service features include minimal capital expenditures outlay, efficiency guarantees, lifetime asset maintenance and overhauls undertaken by EaaS.
Through our EaaS' proprietary technologies, we bring additional cost and energy savings to our customers. Our AI and machine learning-driven Operations Nerve Centre (ONC) manages real-time controls to optimise our operations, reduce energy consumption and thus reduce carbon emissions. With the ONC, EaaS is well-positioned to create an impact in terms of energy efficiency across the region.
Find out more here.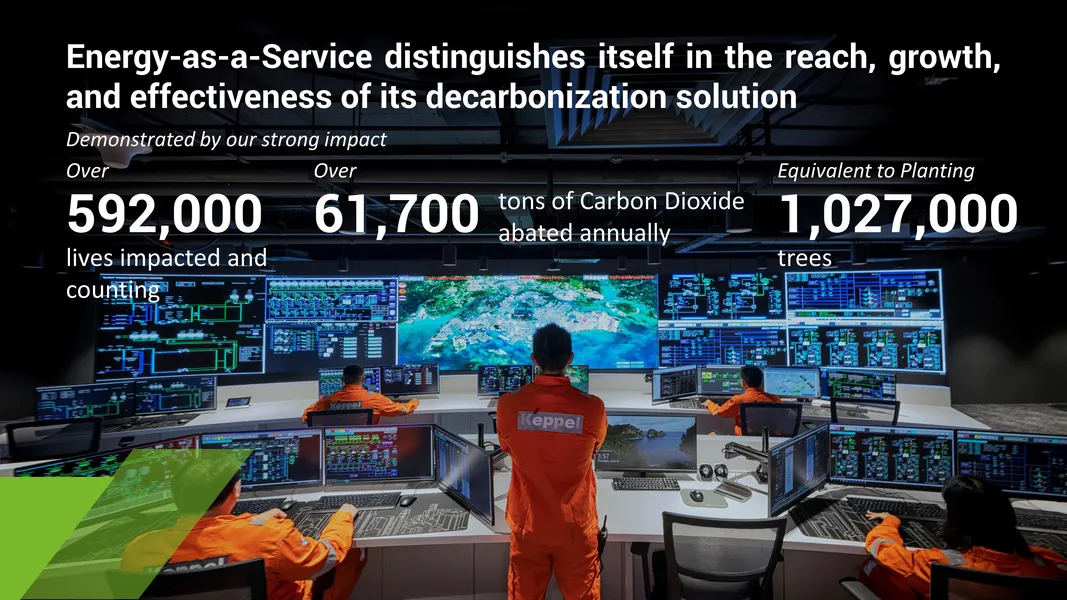 EaaS distinguishes itself in the reach, growth and effectiveness of its decarbonisation solutions.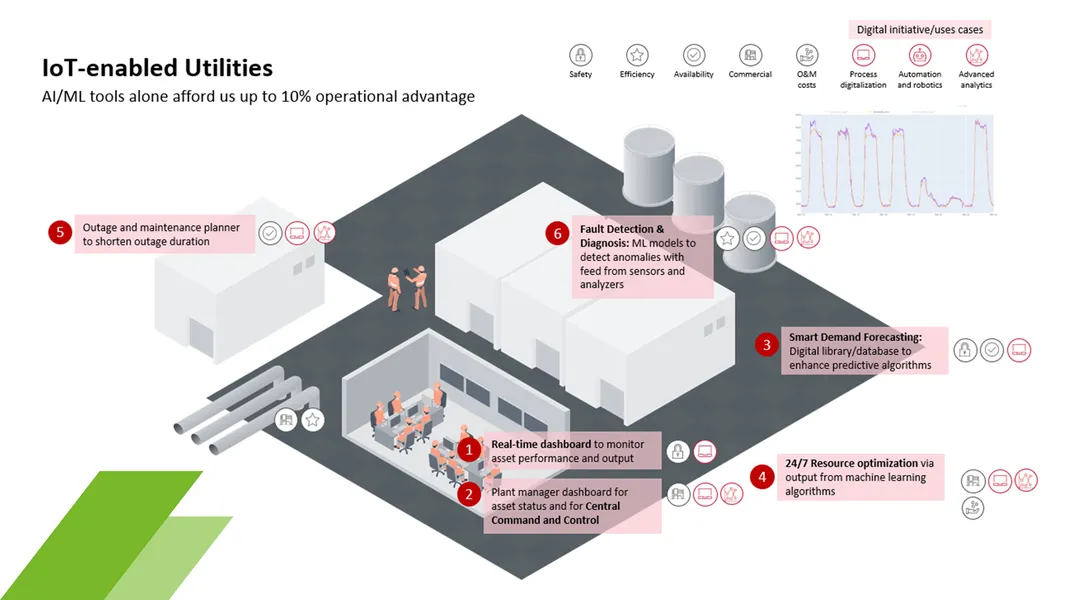 IoT-enabled utilities.
Energising Singapore's Future Through Large-scale Low-carbon Electricity Imports
In 2022, Keppel became the first electricity importer licensee in Singapore, importing up to 100 MW of renewable hydropower from Lao PDR to Singapore via Thailand and Malaysia under the Lao PDR-Thailand-Malaysia-Singapore Power Integration Project (LTMS-PIP).
Since the commencement of power import into Singapore on 23 Jun 2022, Keppel has imported over 260 GWh of hydroelectric power into Singapore.
The establishment of the LTMS-PIP as the first multilateral cross-border power trade of renewable energy among four ASEAN countries marks a historical milestone, as it acts as the pathfinder towards realising the broader ASEAN Power Grid (APG) vision of multilateral electricity trading beyond neighbouring countries in the region.
The LTMS-PIP has enhanced the region's interconnectivity, energy security and sustainability. The project thereby catalyses other opportunities to tap into low-carbon and renewable energy sources in the region and contributes towards economic development and improving energy security and stability.
With LTMS-PIP laying the foundation for the APG, Keppel has also received conditional approvals from the Energy Market Authority of Singapore for the long-term importation and sale of large-scale renewable low-carbon electricity energy from Cambodia and Indonesia, further enhancing regional energy power interconnectivity and security.
Find out more here.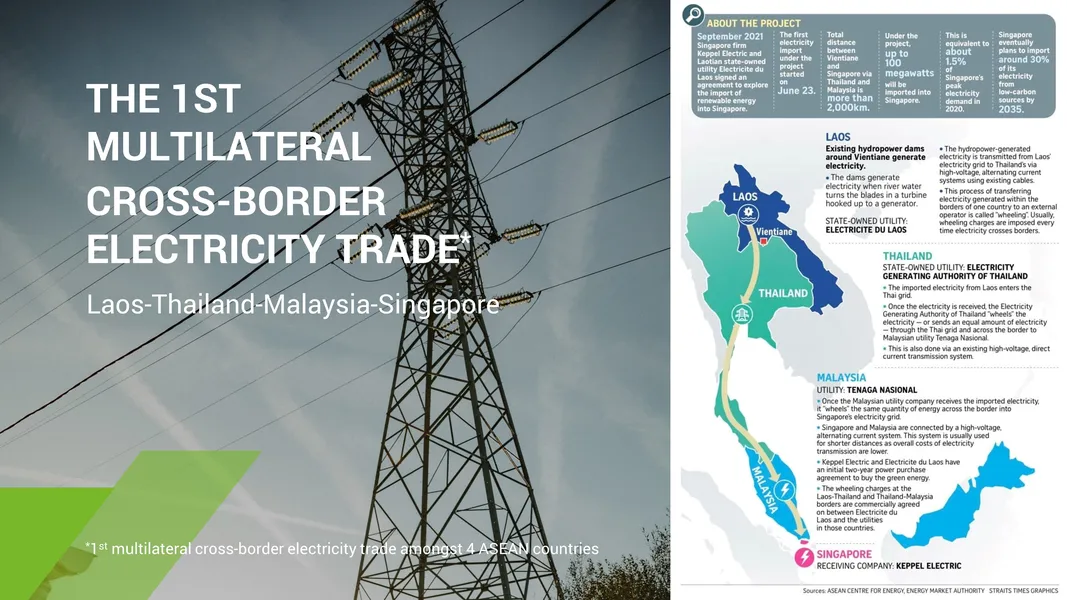 The first multilateral cross-border electricity trade.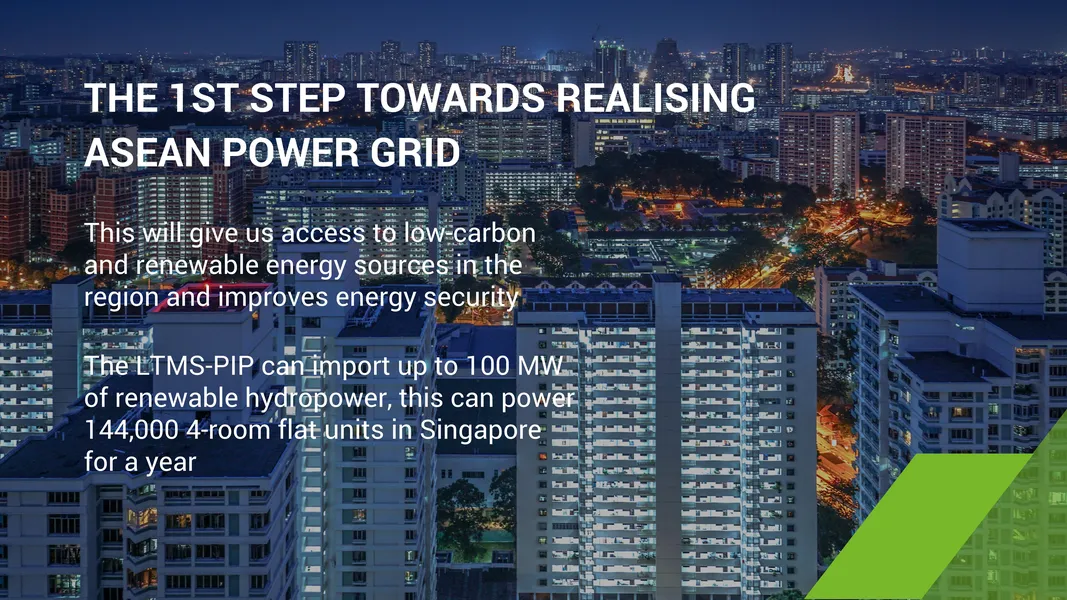 The first step towards realising the APG.
Singapore's First Hydrogen-ready Power Plant and Keppel's Global Hydrogen / Ammonia Ecosystem Partners
Being Singapore's first hydrogen-ready power plant, Keppel Sakra Cogen's 600 MW power plant located on Jurong Island will play a key role in the nation's emissions reduction strategy to develop hydrogen as a major decarbonisation pathway. It will be a state-of-the-art advanced combined cycle gas turbine power plant with the ability to operate on fuels with 30% hydrogen content producing steam and power for use in industrial processes. Users will be the energy and chemical customers of Jurong Island. The power plant is expected to be completed by the first half of 2026.
On upstream production, Keppel is part of the Central Queensland Hydrogen Project consortium with Stanwell, Iwatani, Marubeni and Kansai Electric to develop one of the largest green hydrogen plants in Gladstone, Australia. A Front-End Engineering and Design study has commenced, and final investment decisions are expected for late 2024. Keppel has also partnered with Incitec Pivot Limited to explore the development of a co-located green ammonia production plant. In addition, Keppel is evaluating opportunities in the Americas, China, India and the Middle East.
In Singapore, Keppel is exploring the development of end-to-end low-carbon ammonia power generation and bunkering solutions.
Find out more here.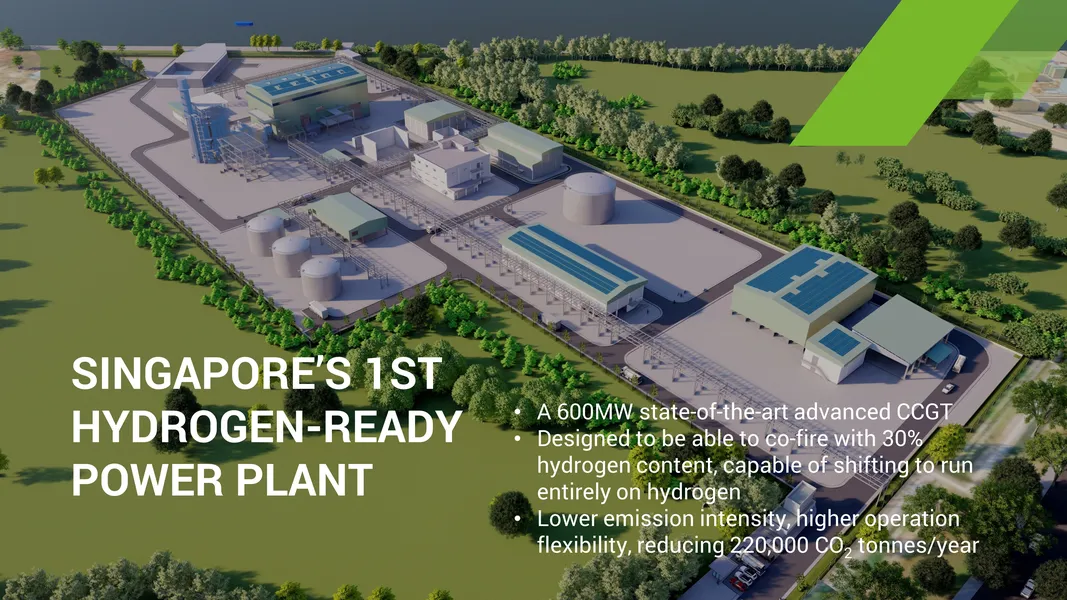 Singapore's first hydrogen-ready power plant.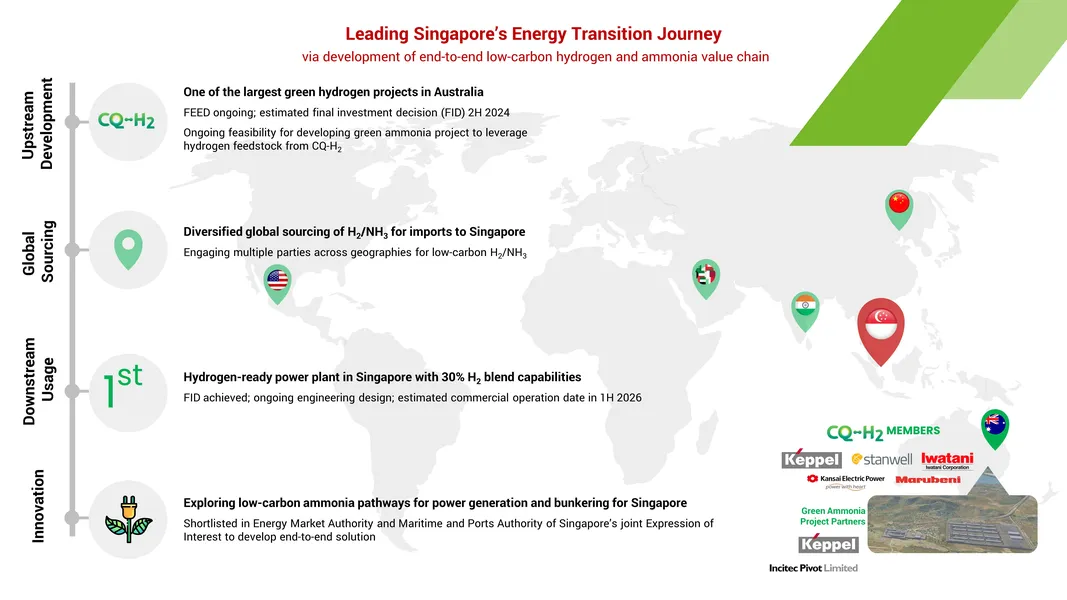 Leading Singapore's energy transition journey via the development of an end-to-end low-carbon hydrogen and ammonia value chain.