Accelerating Decarbonisation of the Built Environment with Energy-as-a-Service
The built environment globally accounts for 26% of global carbon emissions and is one of the most challenging sectors to decarbonise. Space cooling, being the fastest-growing use of energy in the built environment, is also one of the top drivers of global electricity demand.
Keppel Energy-as-a-Service (EaaS) offers holistic end-to-end energy management solutions such as smart and energy efficient cooling-as-a-service, distributed solar photovoltaics, electric vehicle charging facilities, renewable energy certificates, energy storage and other low-carbon energy solutions.
Our international district and distributed cooling portfolio has a designed capacity of over 200,000 RT. The portfolio spans over 80 developments. With a track record of more than 20 years with zero downtime, we serve customers in data centers and the industrial, office and retail segments. Beyond being a one-stop shop for decarbonisation solutions, EaaS' key service features include minimal capital expenditures outlay, efficiency guarantees, lifetime asset maintenance and overhauls undertaken by EaaS.
Through our EaaS' proprietary technologies, we bring additional cost and energy savings to our customers. Our AI and machine learning-driven Operations Nerve Centre (ONC) manages real-time controls to optimise our operations, reduce energy consumption and thus reduce carbon emissions. With the ONC, EaaS is well-positioned to create an impact in terms of energy efficiency across the region.
Find out more here.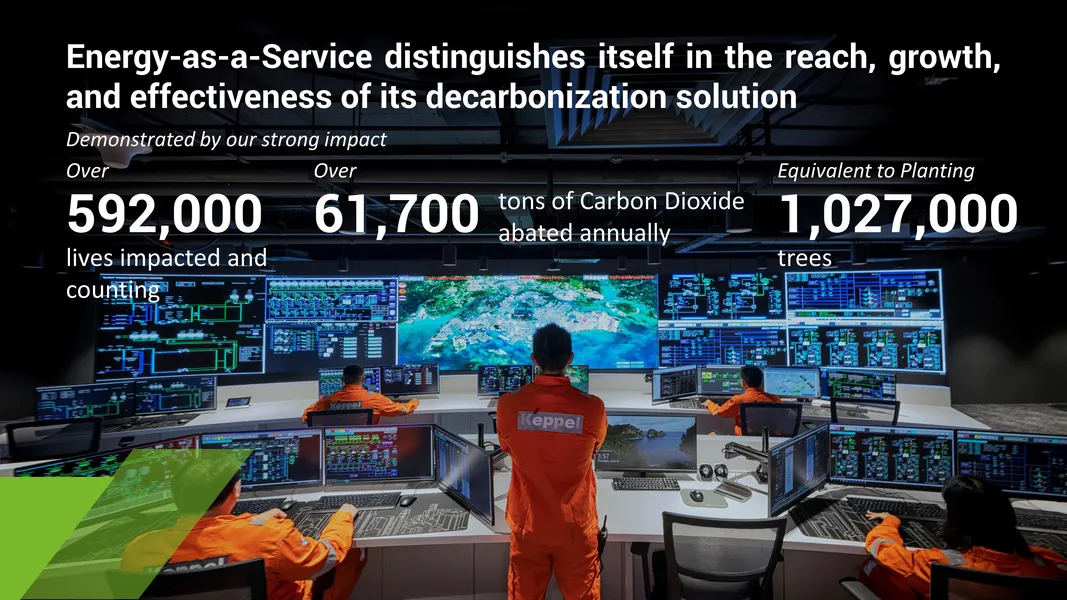 EaaS distinguishes itself in the reach, growth and effectiveness of its decarbonisation solutions.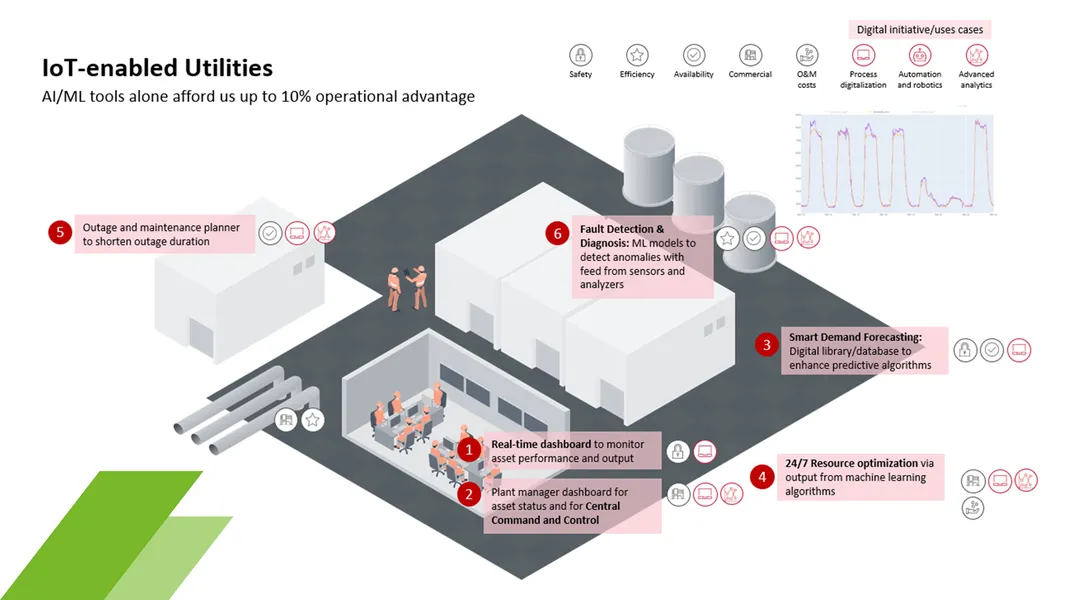 IoT-enabled utilities.
Sustainable Water Treatment
Keppel contributes to Singapore's long-term water security and sustainability by supplying high-grade reclaimed water (NEWater) and desalinated water – two of Singapore's Four National Taps – to meet the needs of a growing nation.
The Keppel Marina East Desalination Plant (KMEDP), Singapore's fourth desalination plant capable of producing up to 30 million gallons of drinking water per day, is a dual-mode plant built with the ability to treat both seawater and freshwater drawn from the reservoir depending on prevailing weather conditions. Reservoir water treatment saves almost two-thirds of energy as compared to conventional seawater desalination. Enabling flexibility of the feed source optimises the carbon footprint of the facility, as the plant is able to switch to the less energy-intensive source whilst achieving the same drinking water quality.
With its treatment equipment situated underground, KMEDP's innovative design allows the plant to be seamlessly integrated with the natural environment. The plant incorporates environmentally friendly elements such as rainwater harvesting within its landscape design, whilst boasting a 20,000 square metres open green rooftop space for community recreation. In 2019, KMEDP became Singapore's first industrial project to be awarded the ABC Waters Certification (Gold) by PUB, Singapore's national water agency, in recognition of its outstanding design and sustainable features.
Find out more here.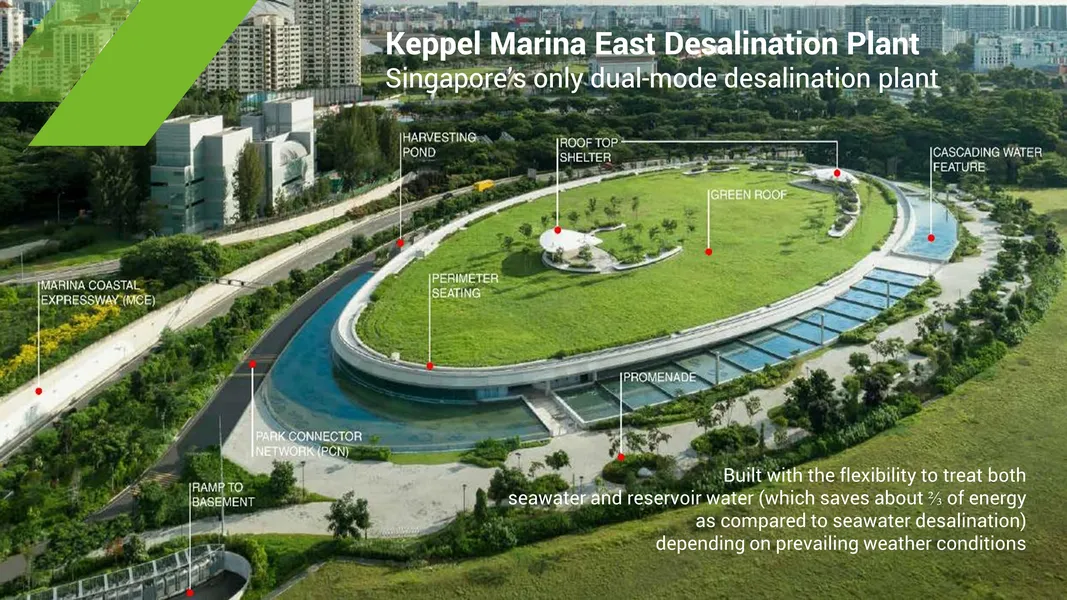 KMEDP, Singapore's only dual-mode desalination plant.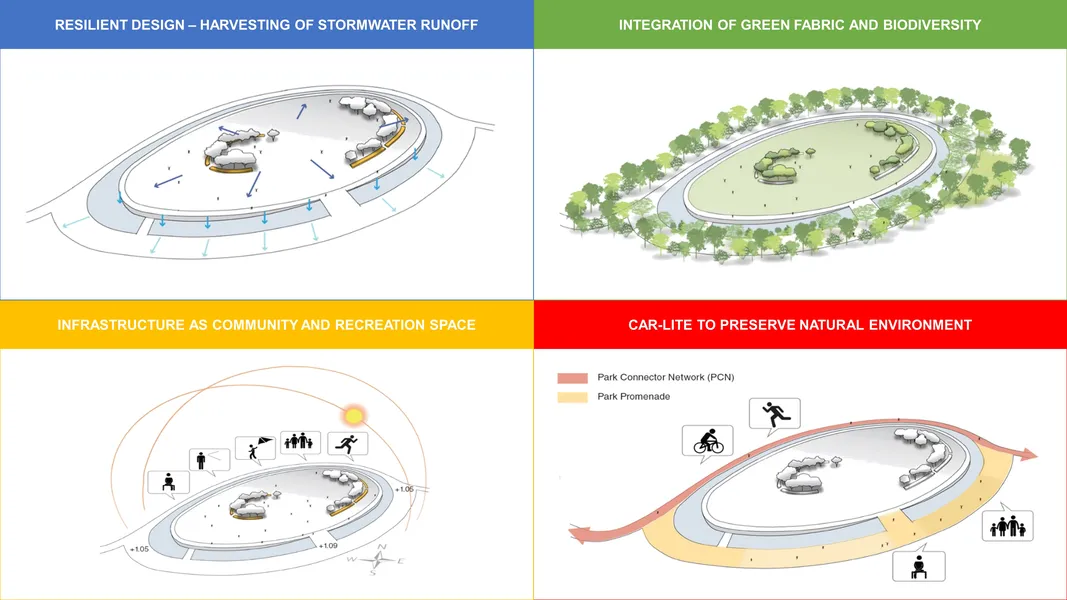 KMEDP's innovative design allows the plant to be seamlessly integrated with the natural environment.