05 Dec
Energy and Decarbonisation

End-to-end Decarbonisation
Terrascope is an enterprise grade, decarbonisation SaaS platform helping businesses make the most impactful actions on their net zero journey.
Starting with a comprehensive measurement of a company's Scope 1, 2, 3 emissions, Terrascope combines deep sector expertise, data science/AI capabilities and advanced functionalities for effective emission reduction planning and simulation. In an initiative with UK-headquartered food manufacturer Princes Group, Terrascope identified the top 30 emission hotspots contributing to 99% of total emissions five times faster than traditional measurement efforts.
Terrascope enables science-based target setting and emission reduction planning through 'What-If' simulations which models the impact of different decarbonisation initiatives across value chains and identifies less obvious solutions. The platform helped Japan's Mitsubishi Corporation Agri Alliance identify alternate procurement sources, processing sites and transportation routes that could reduce emissions and costs by 25%.
Along with corporate carbon footprinting, reduction planning, target setting and reporting, Terrascope offers Product Carbon Footprint at scale to confidently fill in supply chain data gaps and streamline supplier data gathering efforts. In a recent initiative with Singapore-based beverage company, Pokka, Terrascope achieved 92% accuracy in estimated product emissions based on their ingredients and recipes when compared to actual supplier data.
Find out more here.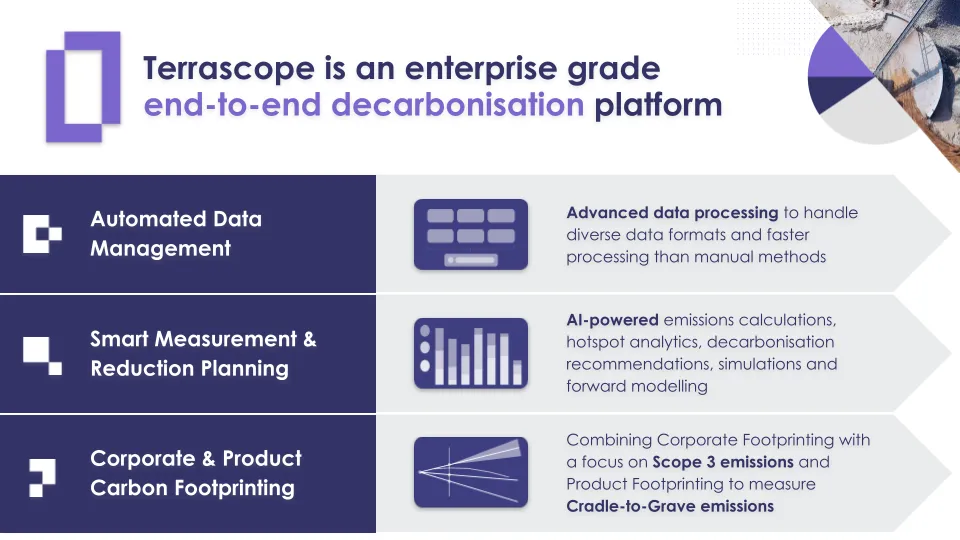 The Terrascope end-to-end decarbonisation platform.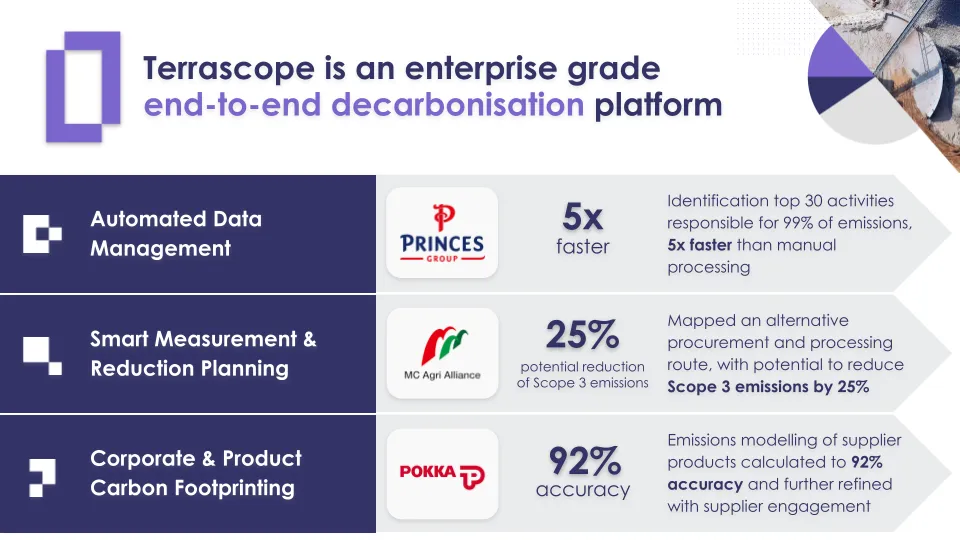 The Terrascope end-to-end decarbonisation platform.